Plug-In Hybrid Cars
After limited availability of plug-in hybrid cars it seems that they are becoming more readily available to the mass market if you have the inclination and the dollars to convert your existing hybrid vehicle.
Electric car pioneering company ZAP is now offering conversion systems for the Toyota Prius and Ford Escape Hybrid through a collaboration agreement with Hybrids Plus.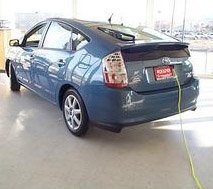 Hybrids Plus

, in Boulder, Colorado is one of the largest companies in the U.S. to convert electric hybrid vehicles into plug-in hybrid-electric vehicles (PHEVs) increasing fuel economy to up to 90-120 miles per gallon depending on whether you are doing city or country driving.
The conversion will allow owners to charge their vehicle from a standard household outlet and with the improved battery pack the cars are much less reliant on gas/petrol and become more of a true hybrid vehicle.
The conversion will put you back a mere US$24,000- $36,000. Might take a little while for the conversion to pay for itself but it sure sounds cool to be able to plug in your car overnight to charge ready for the next day!

Home from Plug-In Hybrid Cars

Hydrogen Hybrid | How Hybrids Work


---



Home | Site Map | Site Policies | Contact Me
Green House Healing © Copyright 2007- 2008