Saving Water - Inside and Out
Becoming more environmentally conscious for most of us now involves water saving strategies that we may not have considered in the past. Many of us now have water efficient shower heads and time our showers.
Saving water, like any resource we use, can happen at a number of levels depending on both our budget and desire to change our habits. In our everyday lives, water use is generally split between the home and the garden and each have opportunities for reducing our water consumption.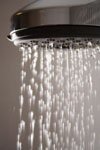 In The Home
generally reducing water consumption- showerheads, dishwashers, flow reduction on taps...
collecting rainwater- water tanks
use of grey water- which can include the treatment and storage of grey water
waterless / composting toilets

In The Garden

irrigating and watering efficiently
grouping plants
introducing drought tolerant species
using indigenous plants
replacing traditional lawn / turf with native grasses
composting and mulching
The above concepts are known as 'xeriscaping', in a nutshell creating a garden that once established does not need supplemental watering. It is about placing plants which are tolerant to the local climate and grouping like plants together. Xeriscaping is often referred to as drought tolerant landscaping but is not restricted to indigenous plants alone.
Benefits of Water Saving - Home and Garden
The benefits of saving water are
a significant saving of money on bills
less time required for maintenance and mowing
increased populations of native insects and birds
the reduced effect when water restrictions are tightened as they currently are in Australia
The hidden benefit is saving a precious resource and knowing that we are reducing our own water waste.

Home from Water Saving

Green News
---


Home | Site Map | Site Policies | Contact Me