Green Christmas
Sustainable Ways to Enjoy the Festive Season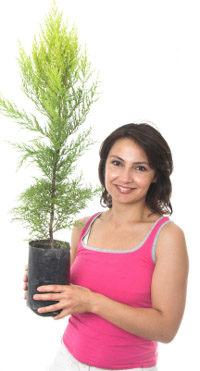 It is easy to get caught up in the commercialism of Christmas, but this year we're having a Green Christmas and so can you. If you'd like your festive season to be just a little more sustainable then here's a few easy tips...



Gift Giving
When buying a gift for someone, think about whether they will actually use it. A 'virtual gift' might be a better option. Things like subscriptions, ethical or virtual green gifts and memberships are all 'value-added' gifts while also saving on all that wrapping paper and leaving plenty of room under the tree!!
The fastest way to reduce on shopping stress is to arrange a Kris Kringle amongst your family. Each person only buys for one other, that way the gift can have more thought and effort put in.
Before buying your gift think about:
buying locally from local artists, growers and craftspeople


buying from local markets and antique shops to get pre-loved treasures


consider homemade gifts, something made using your own time and skills


buy from Oxfam and similar fair trade stores, where you can support developing nations


give a homemade voucher, perfect for people who have everything- a voucher to make them lunch, give a massage...


give a virtual gift- voucher, membership, cinema tickets...to use in the year ahead.


All of the above suggestions aim to reduce the environmental impact of buying a gift, whatever it ends up being.



Home from Green Christmas

Green Gift Wrapping . Ethical Gifts


---



Home | Site Map | Site Policies | Contact Me