Edward Norton BMW
Newest member of the Hydrogen 7 Pioneer Program
Edward Norton joins the list of celebs who actually get to test-lease the new BMW Hydrogen 7.The H7 hydrogen hybrid vehicle is not yet for sale, but has certainly reached past the stage of being a concept car, to being a limited production vehicle, now driven by a select group of industry leaders and prominent figures in entertainment, politics and business.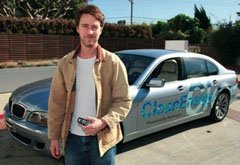 Jay Leno and Will Ferrel are also a part of the select bunch of celebrities who are a part of the 'Hydrogen 7 Pioneer Program', and actually use the car for everyday use. A long list of celebrities now use the Hydrogen 7 as their car of choice for events including Brad Pitt and Angelina Jolie, Cameron Diaz, Richard Gere and Sharon Stone.
Edward Norton is recognised as being a leading voice in the field of solar power and sustainability after being involved the Solar Neighbours Program.
The program was initiated in 2003 in conjunction with BP, with the aim being to get photovoltaic panels onto low income homes, to produce solar power and reduce power bills for the occupants in a sustainable way.Each time a celebrity purchased a pv system for their own home, a low-income family also received a photovoltaic system donated by the program.
More about the
BMW Hydrogen 7
...

Home from Edward Norton BMW Hydrogen 7

Hybrid Cars . More Green Celebrities


---



Home | Site Map | Site Policies | Contact Me
Green House Healing © Copyright 2007-2008