Toyota Prius 2007
Still Leading Hybrid Sales
The Toyota Prius 2007 has once again lead the charge for hybrid car sales, with sales increasing by 69% in the last year (U.S based data from J.D. Power & Associates), even though the model is now approaching 4 years old. Overall hybrid car sales increased by 40% on the previous year.

Toyota still dominates the hybrid market with both the Prius and the newer Camry.
The Prius was released in Japan in 1997, and then worldwide in 2001, with two main models being available-
NHW11 (2001-03)
NHW20 (2004-08)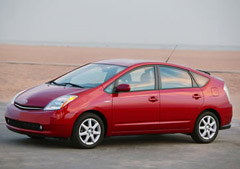 The Prius NWH20 is more aerodynamic, powerful and efficient than it's predecessor. It has a lighter battery and can operate for longer on electric power. The battery pack for the newer Prius is warrantied for 8 years, although it is expected to last 15.
It has been suggested that because of the popularity of the Prius amongst celebrities that the car is bought more as a statement or fashion accessory rather than as a reaction to increased fuel prices or global warming.
Prices for a Prius obviously vary between dealers and countries. Many countries do provide tax incentives on the purchase of hybrid cars, in the UK most incentives are related to parking fee exemptions. In the U.S tax incentives change as a certain number of cars is sold by the manufacturer.
Cost is a relative thing. In Australia you can pay $21 000 for a small to medium sized Toyota Corolla, or roughly
$38 000 for the Prius
, and NO, unfortunately there are currently no tax incentives.
Hybrids on the whole currently make up only 2.4% of new-vehicle sales in the U.S. but with increasing oil prices (recently hitting the magical US$100 a barrel), and 'green issues' consistently hitting the headlines, the Prius and its stable mates might just start to chip away at the huge market.
A new release Prius is expected to be hitting the market sometime in 2009.



---



Home | Site Map | Site Policies | Contact Me