Big Toys for Big Boys
Toyota Hybrid Sports
Melbourne International Motor Show- Feb 29th until March 10th 2008
With all the focus being on the new Holden, the W427 potentially the fastest car ever made in Australia, and other petrol guzzling hotties, the latest Toyota hybrid sports car had much less hype, but much more relevance in the current market.

The Holden concept 'super-car' has a 7.0-litre V8 engine and will likely be priced above $150,000. In stark comparison was the Toyota 3.5 litre V6 in conjunction with an advanced version of Toyota's hybrid drive system.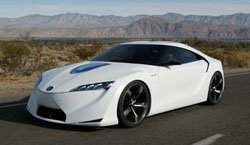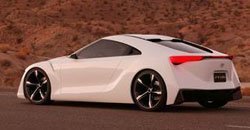 First seen at the Detroit auto show last year, the FT-HS is designed to showcase Toyota's leadership in hybrid powertrain technology, where braking energy is stored in the battery and can then be released as burst of power out of turns.
Toyota's FT-HS, its full name the Future Toyota Hybrid Sports, is a stylish coupe which has already been tagged as a 'Prius on steroids', and is hinted as being the 'next Supra' thanks to the Toyota Press Release.
What do you think?
Are Australian's addicted to petrol guzzlers?
Will it take a real hike in petrol prices to get us to change our car-buying habits?

Home from Toyota Hybrid Sports

Hydrogen Hybrid | Hybrid Cars


---



Home | Site Map | Site Policies | Contact Me
Green House Healing © Copyright 2007- 2008