John Mayer Tour
Going Green with Reverb
He was already greening his shows in 2007 and has taken it a step further for the new John Mayer tour hitting the road this year (2008).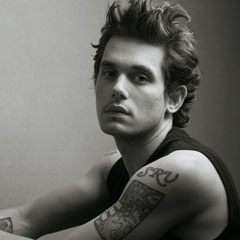 He has teamed up with environmental non-profit group Reverb to help reduce the carbon footprint of his 2008 tour. He has even created his own brand called AKOG (Another Kind of Green) to support the message.
Reverb have initiated the use of-
B20 biodiesel for the tour buses
waste reduction backstage
selling of eco-friendly merchandise
sourcing organic food from local suppliers
There will also be an eco-village set up outside the concert venues to help educate fans on current environmental issues.
There has recently been criticism of Mayer for using private jets, with his flavour of the month, Jennifer Aniston, and driving an SUV, let's see if the fans get behind the message of the tour. Perhaps Mayer could do a little more 'practicing of what he preaches' to win over the skeptics.
From the AKOG site-
AKOG (Another Kind of Green) was created from the belief that small steps toward environmental sustainability can effect widespread change when multiplied by a great number of participants.

Home from John Mayer Tour

More Green Celebrities . More Green News


---


Home | Site Map | Site Policies | Contact Me