GM Volt Electric Car
Will the Volt 'save' General Motors?
While the GM Volt has been the talk of car industry since 2007, it's not just because General Motors has been the talk of the town filing for bankruptcy protection, but because it stands out from existing hybrids for a couple of reasons.

Why is the Chevy Volt Different to other Electric Cars?
The Volt will be the first PHEV Plug-in electric vehicle to be mass produced and mass marketed. The new Voltec drivetrain feeds power directly into the motor, not the battery like other hybrids.
When fully charged the car can drive 40 miles / 65 km which is more than most people drive to and from work each day.
In 'electric' mode the Volt produces no emissions (apart from those produced to charge it.) When running on what is known as 'range extender mode' it produces much lower carbon emissions than standard gas/petrol engines.
Volt Battery - Optimising Results from a Lithium Ion Battery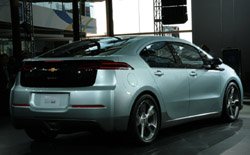 The Chevy Volt battery has been an ongoing source of rumour, with weight and storage being the primary movers. New lithium ion batteries are constantly being developed, but finding the right mix of cost, battery life, weight and storage are a mix, that it seems is hard for car makers to balance.
The Volt battery pack is T-shaped running down the centre of the chassis of the car. The Chevy Volt is expected to charge in a household socket in about 6 hours.
Volt Production - Assembly Begins

While we have seen many concept Volts over the last 18 or so months at various car shows, the date is drawing near as to when the first true Volts will be assembled and on the road.
July 4th, has been the date suggested by Andrew Farah, lead engineer for the Volt program, that he expected to be getting behind the wheel of one of the first of the Integration Vehicles to come off the production line.
The wait still continues, and the anticpation heightens for consumers with the expected release date of the Volt still not being until sometime late in 2010.

Home from GM Volt

More Electric Cars . Hybrid Cars


---


Home | Site Map | Site Policies | Contact Me