Sydney Car Show 2008
Volt stars in Green Car Show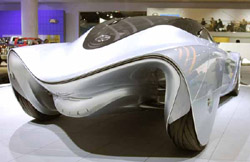 At the Sydney International Motor Show car companies were jostling to outdo each other in terms of green cred, with a number of futuristic electric concept vehicles on show.
Mazda had the spacy looking Taiki (pictured right), then there was the fully electric Nissan Mixim and of course the Toyota Hybrid X (pictured below right), the next step into the future from the successful Prius, all giving us a potential glimpse into the future.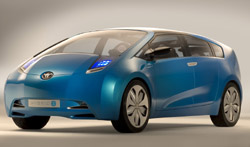 Mazda chose Sydney to launch the new generation Mazda3, one of many small cars on show. The Mazda3 is already the third highest selling passenger car in Australia, showing that consumers are looking for more economic and affordable cars. The new Mazda3 has improved aerodynamics, drivetrain efficiency and technologies which further improve its fuel efficiency, while also maintaining the styling that Mazda is renowned for.
Holden will be badging cars with the 'Ecoline' badge when they utilise an alternative fuel or petrol-saving feature. Of more merit within the Ecoline badging is the Active Fuel Management (AFM) which will be applied to all V8 automatics from January 2009. The technology enables an eight cylinder car to run on four cylinders until engine demands increase. The fuel savings are in the range of 1 litre for every 100 kms, while increased savings could be found in highway driving.
Chevy Volt coming to Australia
Holden, as a part of the General Motors group may well be responsible for bringing the Chevy Volt to Australia but we will have to wait until 2012 before we see them rolling off the production line.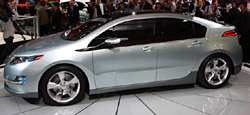 The Volt, with an expected release of 2010 in the US is probably most anticipated electric vehicle, getting a huge amount of press in the US over the last 12 months. The Volt can drive 64kms before it needs to use its small petrol engine at all.
In Australia, where hybrids are hard to come by, the Holden Volt will potentially compete with the Prius, and the locally made Camry hybrid which will commence production in 2010.
GM Holden chairman and managing director Mark Reuss said of the car, "This technology is potentially the most exciting addition to GMs' range of alternative fuels on the horizon."
Difficult economic times make bringing new vehicles challenging for car makers. Worldwide we have seen downturns in new vehicle purchases as consumers tighten their belts. It is still expected that Australia will pass the one million car sales in 2008 as it did in 2007. Only time will tell.




Home from Sydney Car Show 2008

Green Car Shows . Green Cars
---


Home | Site Map | Site Policies | Contact Me