Sustainable Construction
Improving the Performance of Your Home
What is sustainable construction?

Put simply it is building with water, energy and material consumption in mind, as well as careful design in regards to solar orientation and the impact on the environment.
Also known as 'Green Building' or 'Natural Building' it refers to the whole life-cycle of a building being considered, rather than just the initial materials and expenditure.

Answering the question of whether your own home is sustainable is a difficult, and quite subjective one. The question that might be more appropriate is how can I make my own house MORE sustainable than it currently is?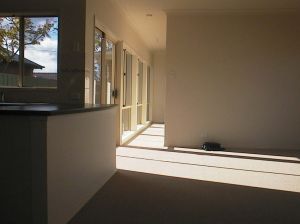 The fact is that the vast majority of existing homes (most homes older than 10-15yrs) have been constructed without sustainability or good solar orientation in mind. There are many ways to improve sustainability and energy use in buildings, and plenty of those achievable by the average DIY handy person.


Even if you are only renting the property that you live in, there are simple strategies to improve the thermal performance of your dwelling and increase your comfort.
The aim when considering the sustainability and energy use in buildings is primarily to improve comfort levels and reduce running costs, thus reducing the demand on the environment.
Best tips for improving performance (cheaply)-
Draft/draught proof your house- use door snakes internally, draft seals on external doors, and thick curtains or shutters on windows.
Improve insulation. If your home is without ceiling insulation then install some (or ask your landlord to). It will reduce heating and cooling loads by roughly 20%. Some existing floors (depending on accessibility) can also be insulated for another 20% boost in savings.
Shade northerly windows (opposite in the northern hemishere) in hot weather. Better if you can shade the window from the outside with natural screening (vegetation) or external blinds, before the heat enters the house.

Home from Sustainable Construction
Green News
|
Straw Bale
---


Home | Site Map | Site Policies | Contact Me