Straw Bale Windows
Lintels and More...
To achieve the lovely shaping that you see around straw bale windows and door openings a couple of different techniques can be used.
The one being used at the house I am contributing to, is known as a dropped rolled head. As the name implies, the end result can have a rolled appearance, but to do so it means that the 'droppers' (timber inserts) need to be shaped.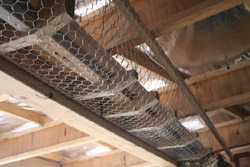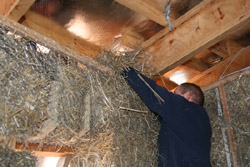 In the first image the lintel and shaped droppers have been fixed into place with wire netting slipped through and stapled intop place, ready for the straw. It acts almost like a basket, so that straw can be stuffed all the way around the droppers, internall and externally.
The netting is then filled with the loose straw, reasonably tightly so that air gaps are sealed and the building retains a good insulation value.
Once these openings are filled, they start to show some of the appeal that the finished straw bale openings achieve.
More pictures of straw bale openings, and rendering fun next week!



Home from Straw Bale Windows

Green News | Strawbale Building


---


Home | Site Map | Site Policies | Contact Me