Solar Powered Phone
Charge Up Your Phone With Solar Panels
A couple of solar powered phones are close to hitting the marketplace (in the US and UK) anyway. The phones each have a bank of solar cells on the rear. It is a step forward from several solar phone chargers, like the Soldius which were external to the phone, but had a reasonably good charge times (2-3 hours to fully charge).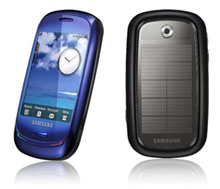 Solar Powered Cell Phones


ZTE- Coral Solar- marketed as a phone that can charge in the sun in remote areas where electricity and charging outlets aren't available.


Samsung - Blue Earth- made from PCM (plastic produced from recyled water bottles) and even comes in recycled packaging. Released in the UK later this year.


Samsung- Crest Solar- a budget model which has been released prior to the Blue Earth. The solar panel on the back case needs 1 hour of solar charging will give 5-10 minutes of extra talk time.


So yes, even phones are trying hard to go green, but time will tell as to whether the solar cells can store enough energy to run a touch-screen phone, or just to make that emergency call out in the middle of the desert when your car breaks down!
So for the majority of us, who spend our days with our mobile (cell) phones in our bags, or sitting on our desk, this phone maybe not the most practical new gizmo. For those living or working remotely it could just be a life-saver!


Home from Solar Powered Phone

Green News | Solar for Homes


---


Home | Site Map | Site Policies | Contact Me