Solar Bike Storage - Green Pod
Shower, Change and Store Your Bicycle
Penny Farthings in Brisbane, Australia, have developed the Green Pod, a solar powered bike storage area, where cyclists can store their bikes, as well as grabbing a quick shower.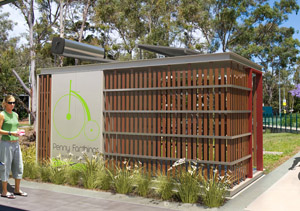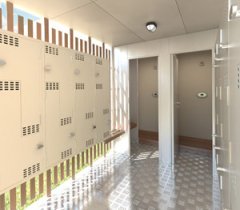 The Pod is the size of a standard carparking space and as well as looking pretty damn smart it has has an impressive list of sustainable features-
solar hot water and timed showers


grey water treatment


self-cleaning mechanism


sustainable construction


lockers, two showers and two change rooms


storage room for 10 bikes
Penny Farthings also produce 'pushbike trees' and 'pushbike cradles', novel and innovative bike storage for urban areas.

The first Green Pod has been installed at Queensland University of Technology's Kelvin Grove campus, and as well as at other Universities we may see the 'Pods' popping up at train stations around Brisbane.
More at the Penny Farthings website (pushbikeparking.com).

---


Home   |   Site Map   |   Site Policies   |   Contact Me