Paris- Green Cars
Smart ED, Insight and S400
More green cars from Paris, although when we see ANY of these in Australia who knows? The Sydney Car Show is coming soon, so whatever hybrids are soon to hit the shores of Australia will be known soon...in the meantime more from Paris..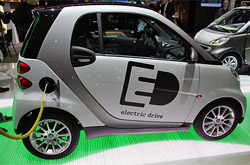 The Smart ED (electric drive), the 2nd generation of the Smart for Two is expected in the States probably in 2010, possibly late 2009. The 2nd-gen smart ED now has a lithium-ion battery achieving a range of up to 150 miles.
A small number of the Smart for Two ED's are being tested in London, with Berlin next on the list. The hope is to have 1000 Smart ED's on the road by the end of 2009.
The new technology used for the Daimler Smart ED arises from a joint partnership between Daimler, Chrysler, General Motors and BMW. Apparently the new technology is a 'modular system' giving them (the partnership group) the edge to 'hybridise all our vehicles rapidly.'
Obviously, as Paris has shown, electrification of cars is now on the radar of most, if not all major players in the car industry.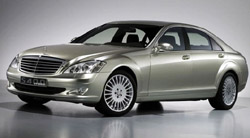 Mercedes selected the Paris Motor Show 2008 to officially launch their first hybrid the S400 BlueHybrid. The S400 will be the first hybrid or high-volume vehicle of any kind to incorporate a lithium-ion battery. The car should get the best fuel economy within the large luxury car class. Price is in therange of $80,000.
We finally saw the long awaited Honda Insight, the car touted to muscle up against the Prius, as 'the hybrid of choice', will hit the streets of the US and Europe in the first half of 2009.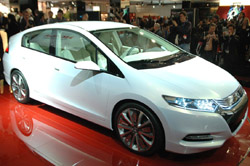 Until then we'll have to be satisfied with the concept vehicle seen in Paris, probably not a great deal different to the production model. Most exciting for potential hybrid drivers is that the Insight will be priced at an expected $18,500 in the US making it a much more appealing option.
With current financial markets it is important for hybrids to compete with small economical cars in the marketplace, otherwise they will face a rapidly shrinking market instead of an expanding one.
In Europe, small cars and diesels are more popular than hybrids, largely because of price point. Let's see if Honda can grab a piece of that hybrid pie from Toyota late next year when the Insight goes into full production.
Even though it totally looks like a Prius, that's supposedly just a matter of aerodynamics, so maybe we'd better get used to the eggy shape because it's here to stay!




Home from Paris Green Cars

Green Car Shows | Green Cars




---


Home | Site Map | Site Policies | Contact Me