Mitsubishi Electric Car
Compact Mitsubishi MiEV soon to Hit the Streets
You may have read previously about Japans implementation of LINK battery charging stations in preparation for the fleet of electric cars that will soon hit the market. Good news, for Japanese car buyers at least, is that the Mitsubishi electric car, the compact MiEV, planned for a 2010 release looks like hitting the market sooner.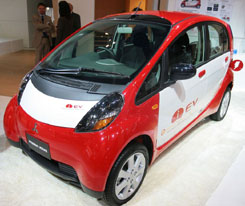 Mitsubishi have already started delivering prototypes of its i MiEV electric four-door to two Japanese power utilities to test both driving and battery performance.
They have also just announced that two American companies will be testing the vehicles under Californian conditions in preparation for a release to the US market.
The new release date for the Japanese market is set for summer of 2009, with the North American and European markets hopefully not too far behind.
The 'i' concept has been in development for Mitsubishi for several years, with the small and efficient i MiEV being seen in both a two and four door model.
The MiEV is powered by a 47 kW electric motor stored under the rear seats and a 16 kWh or 20kWh lithium-ion battery pack. The top speed of the i MiEV is 130 kph (81 mph), with a range of between 130-160 km (80-100 miles) depending on your choice of battery pack.
Best of all the sale price for the Mitsubishi is expected to be around US$17 000, roughly 2 million yen, which will make it the most affordable electric car available on the market.

Home from Mitsubishi Electric Car

Green Cars | Advantages of Electric Cars


---


Home | Site Map | Site Policies | Contact Me