Green Loan Program
Improving Home Sustainability
A new initiative of the Australian Government is to help householders create 'greener homes' by offering an interest free Green Loan to participating households.
**NOTE: This scheme has been discontinued and is no longer available.
The loans are provided in order to make suggested changes after having a Sustainability Assessment on your home. Changes might include:
improvements to insulation
installation of solar systems for water heating or electricity
water reducing measures- water tanks
purchase of more energy efficient products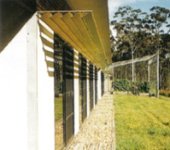 The
Sustainability Assessment
is
FREE
, and is subsidised by the Government. The qualified assessor will visit your home, inspect it thoroughly and discuss with you what your current behaviours are, and what outcomes you wish to achieve.
The Assessment Report created by the assessor will then give recommended actions for you. The Report is valid for 6 months enabling you to apply for an interest free 'Green Loan" of up to $10,000 to make some/all of the suggested changes.
The Green Loans program is expected to run until 2012, and does have some eligibility requirements:
applicant must be 18 years
the applicants income must be less than $250,000 per annum
home must be owned (or be held in trust) by the applicant
home must have been occupied for at least 12 months

Home from Green Loan

Green News . Going Solar



---



Home | Site Map | Site Policies | Contact Me