Fire Safety Tips
Creating A Fire Plan
If you have determined that your home is at potential risk of fire and are wanting to create a Fire Plan there are several major considerations to help you to decide whether to stay or go, before you even undertake an Assessment of your Property.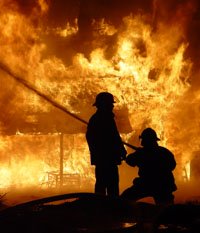 The age and physical ability of the occupants of your home. Any plans to stay should not include the elderly, intellectually disabled or children under the age of 16.


Will you be alone to defend your property? Two or more adults able to cope with both the physical and mental stress of defending the home are required.


Are you mentally prepared to stay and defend your home? Defending your home will be highly stressful mentally, as well as physically


Do you have pets and/or livestock to consider?


Is your home and car insurance up to date?


Does your area have a Township Protection Plan?
A Fire Plan should be written down, understood and practised by ALL members of your household.
Creating a Fire Plan has several steps involved and Fire Ready Kits to help you in creating your Fire Plan are available from the
CFA Website , or by calling 1800 240 667.



Home from Fire Safety Tips

Fire Safety . Green News
---


Home   |   Site Map   |   Site Policies   |   Contact Me