Bike Share Melbourne
More Bicycles in the City
Bidding has opened for the Bike Share Scheme, scheduled to come to Melbourne in 2010 with an expected initial 600 bikes for hire. The aim is to encourage more Melburnians and visitors to the city to use bike power for short trips.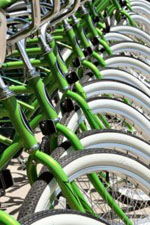 Copenhagen is the obvious leader for 'cycling cities', with an estimated 36% of Copenhageners using bikes to get around their city. Melbourne can certainly learn from Copenhagen with its infrastructure which allows for cyclists, and clearly designated bike lanes in all city areas.
Melbourne has had well-publicised ongoing tension between cyclists and motorists, as well as cyclists and pedestrians, with hundreds of reported incidents each year. Part of the issue stems from a city becoming bike-friendly when it previously was purely the domain of vehicles and pedestrians.
Back in Melbourne, new laws have recently been passed making cyclists accountable for breaking road laws in the city. Heavy fines will be imposed for dangerous riding, careless riding, injury to a pedestrian and property damage.
Hopefully with increasing numbers of both cyclists and pedestrians in the city we'll see everyone paying each other a little more respect.





Home from Bike Share Melbourne

More Green News | Green Cars


---


Home | Site Map | Site Policies | Contact Me