New 2010 Prius
Everything Prius and a Whole Lot More..
The new 2010 Prius has hit the streets of Australia, maintaining the unique Prius look that we have become accustomed to but with some new features that further enhance what people already love about the Prius.
The Prius has been the best selling hybrid (by a mile) in the US, and aims to reach the same standing in Australia, although with a much smaller market.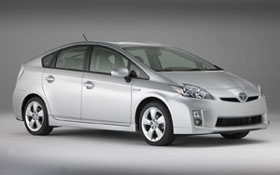 The 2010 3rd Generation Prius boasts
Improved mileage on the previous models statistics
Aerodynamic styling and improved performance
Improved steering and braking
Solar Powered Cooling, Satellite Navigation, Radar Cruise Control - in the i-Tech model
Improved styling and quality in the interior
All these new features come at a price. In Australia the 2010 Prius will put you back $53500 for the base model, making it a pricey addition to the family, compared to other hybrid vehicles.
We'll let you decide if it's worth it!


Home from New 2010 Prius

Green Technology | Green News


---


Home | Site Map | Site Policies | Contact Me